Water Extraction Done Right
9/2/2022 (Permalink)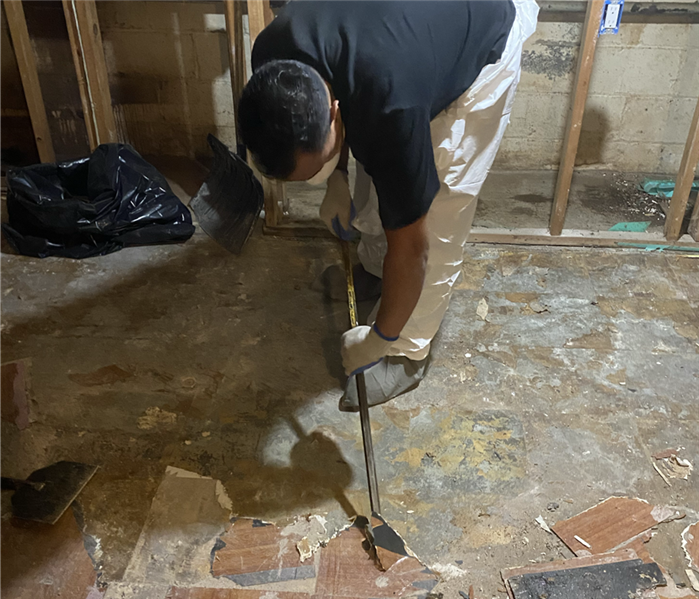 What is water extraction?
Water extraction is done to remove water from a home or business after a flood, burst pipe, or storm. When large amounts of water come on to your property, it's important to call your local SERVPRO in order to have the water extracted as soon as possible to prevent mold and further damage to your property.
What tools do we use to extract the water?
Our trained technicians use pumps and vacuum units in order to remove large amounts of water from the walls, flooring, ceiling, and other surfaces in your home. These machines are so powerful, they can extract hundreds to thousands of gallons of water from these surfaces in order to dry. Here is a list of some of the tools we use:
Submersible Pumps
Industrial Vacuums (Wet/Dry)
Infrared Cameras (to find hidden water)
Moisture detectors
What are the first steps to take before a water extraction?
Our team will first identify the cause of the water damage, and if needed, will take steps to stop it in order to begin remediation. For example, if there is a burst pipe, our team will first stop the pipe from spouting off water before starting the extraction process. Next, our team identifies the type of water that has entered into the property. Depending on the classification, if it is contaminated or not, a professional will make sure to plan accordingly to make sure your property is safely restored. Furniture and/or other contents belonging to the property may also be moved to prevent damage or stains on the floor.
How do I know that all of the water has been extracted?
Our professionals will use pumps and vacuums to remove a majority of the water from the property. The remaining water will be removed by technicians manipulating temperature and humidity within the premises to ensure the area is fully dried. Progress is then monitored by moisture meters that give us an accurate indication of water levels.
Did we answer all of your questions about water extraction? Give us a call at (718) 979-4100 or find us on social media!